Our Story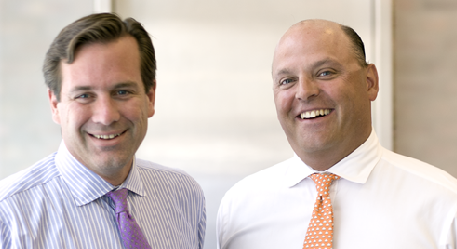 Thompson Flanagan is a premier insurance brokerage firm focused on delivering consistently superior results within a collegial environment that encourages a culture of excellence, respect, teamwork and integrity.
In 2004, while working for a large insurance brokerage firm, two life-long friends, Doug Thompson and Larkin Flanagan, noticed an alarming trend in the industry toward segregating client service and placement. They decided to form a different kind of insurance brokerage firm. They believe that all brokers, even those with senior status, should service the policies they place. Their shared philosophy became: If you start it, you maintain it, you finish it.
Thompson Flanagan began with a team of five people specializing in Lawyers Professional Liability. But it didn't take long for the company to grow.
In 2005, Thompson Flanagan added an Executive Liability team. The addition of the Benefits team came in 2006, followed by the Property and Casualty team in 2009. With such tremendous growth in a few short years, Thompson Flanagan discovered they had outgrown their office space in the Loop and decided to move to their current loft space in the West Loop.
Thompson Flanagan is an energetic, extremely smart and driven team. We value our culture of family and teamwork. Solid relationships between our team members enable us to effectively service our clients better than anyone else in the business.
Whether your business is in need of benefits expertise or property coverage, a policy review or risk management assessment, you can count on Thompson Flanagan to provide the diligence, expertise, and insight to find the best insurance solutions for your specific needs.